NEW Mass Spectrometer APIMS 
Delivers Repeatable Low Parts Per Trillion Detection Limits for Impurities in Ultra-High Purity Gases
Pittsburgh, PA (October 28, 2021) – Extrel, the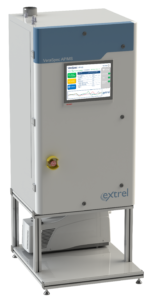 world's leading manufacturer of research and process mass spectrometers, has expanded its high-performance product portfolio with the launch of its new VeraSpecTM APIMS for ultra-high purity (UHP) gas contamination analysis.
Atmospheric Pressure Ionization Mass Spectrometry (APIMS) is widely accepted as a powerful tool for pure gas analysis, given its unique ability for real-time, multi-component measurement down to parts-per-trillion levels.  Extrel, the trusted source for Mass Spectrometers since 1964, delivers optimal performance, reliability, and ease of use with its new VeraSpec APIMS, enabling real-time monitoring of the most critical impurities – trace oxygen, moisture, methane, carbon monoxide, carbon dioxide, ammonia and more – in a single instrument. 
Developed for research, electronic gas, and semiconductor applications, it is the first Extrel APIMS system available that incorporates an integrated touch screen graphical user interface for point-of-use visual indicators in gas purity, offering increased operational efficiency.
Extremely simple to use, the VeraSpec APIMS has an intuitive web-based interface that allows the user to operate it with ease, and can check instrument status, review data trends, and run detailed analysis with the click of a button. Maintenance is also reduced with the option of scheduled automated calibrations.
Chuck DeCarlo, Business Development Manager for Extrel stated, "Our latest VeraSpec APIMS system combines both Electron Impact and atmospheric pressure ionization sources. This unique dual-source ionization configuration offers an unparalleled analysis range. It allows for the complete analysis of all components in the pure gas sample – from PPT to % level – in one system, making it extremely cost-effective."
Extrel will be demonstrating its gas analysis solutions at Semicon West, booth 933. Visitors to the booth will learn how the VeraSpec APIMS system monitors a wide range of gases and impurities with the highest combined sensitivity and flexibility from a single analyzer.  Experts will also be on hand to discuss Extrel cost-effective solutions for continuous semiconductor bulk gas purity verification.
For more information, please visit https://extrel.com/products/gas-analysis-systems/veraspec-trace-apims/.
Fenceline, Air, and Flare Gas Monitoring: Environmental Applications for Real-time Mass Spectrometer Gas Analyzers
By Chuck DeCarlo, Business Development & Marketing Manager, Extrel
October 12, 2021
At the Gulf Coast Conference in Galveston, Chuck
DeCarlo presented how the recent updates to 40 CFR 60 and 63 have increased EPA regulation of flare gas and fenceline monitoring requirements, prompting the need to adopt real-time gas analysis solutions at many sites, ranging from oil refineries to downstream hydrocarbon manufacturing.
Industrial mass spectrometers provide fast, continuous updates of the necessary compliance parameters as well as additional information for overall process safety and control. This presentation showed many examples and data from fenceline, flare gas, fuel gas and air monitoring environmental applications using a real-time, mass spectrometer gas analyzer.
Mass spectrometry is an analytical technique that utilizes the molecular mass of substances for identification and quantitation. Gas and vapors are ionized inside a vacuum chamber. The ions are then filtered using electric fields generated by the quadrupole. Ions of a particular mass are selected to go to the detector. The composition of the gas sample is calculated from measured ion current and reported to the user in real-time.
By its very nature, a mass spectrometer is a generalist: there is no class of molecules that is unable to analyze and it's fast.   Also if you have to measure 80 or 100 sample points spread throughout your facility that would mean many dedicated analyzers, and all of the required maintenance.  A mass spec can do it all.
How it works is simple:
Constant flow of gas enters the analyzers
Sample gas is ionized and scanned electronically
Each scan produces a set of peaks specific to the composition of the ionized gas
All gas samples can be analyzed with a mass spectrometer
>99% documented uptime
High resistance to reactive or corrosive compounds
Long calibration intervals
No carrier or detector gases required
Simple internal maintenance, once per year
Flare Compliance at Oil Refineries
By Chuck DeCarlo, Business Development & Marketing Manager, Extrel
August 2021
At the 4C Conference in Austin, TX, Chuck DeCarlo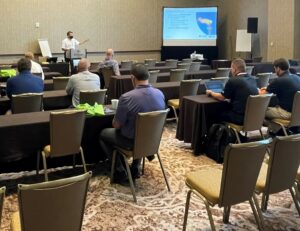 presented some Advanced Solutions for Flare Gas Analysis.  During the presentation, Chuck detailed how companies can maintain full compliance with one analyzer, provide real-time protection from flare violations, save on steam and fuel gas consumption, and omit using deadly H2S calibration gases required at oil refineries.
According to new requirements in the General Provisions, flares used as Air Pollution Control Devices (APCD) are expected to achieve 98% Hazardous Air Pollutant (HAP) destruction efficiencies. These updated requirements include monitoring of the pilot flame, visible emissions, flare tip velocity, net heating values, and dilution parameters, as well as maintaining a Flare Management Plan and a Continuous Parameter Monitoring System Plan.
The Net Heating Value of the gas in the Combustion Zone (NHVCZ) is of particular importance as it has a direct impact on combustion efficiency. As a result, the RSR update mandates a NHVCZ ≥ 270 Btu/scf, based on a 15-minute block average, when regulated material is sent to the flare for at least 15 minutes. For flares actively receiving perimeter assist air, NHVdil must be greater than or equal to 22 Btu/ft2, when regulated material is sent to the flare. To meet this requirement, continuous direct measurements of refinery vent gas must be made. High variability, sulfur content, and corrosivity can make these samples difficult for many analytical techniques.
The Extrel MAX300-RTG real-time gas analyzer is currently used at many US refineries for NSPS Subpart Ja sulfur monitoring. The analyzer measures the full, speciated composition of the flare gas and delivers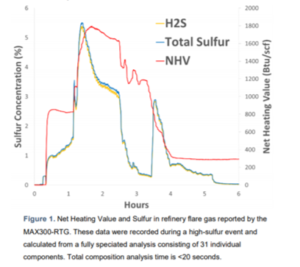 continuous updates of NHV, H2S, and Total Sulfur several times per minute.  Rapid updates of NHV are critical for compliance because the refinery must be able to both monitor and control the gases at the flare tip within the regulated 15-minute block. The additional information provided by full speciation can be used at RSR sites for Ja sulfur compliance, validating or replacing existing sulfur analyzers, as well as for operational control and accurate root cause analysis.
The regulation provides multiple ways to calculate the   Net Heating Value of the gas in the Combustions Zone (NHVCZ) for RSR reporting, but all methods use the Net Heating Value of the Vent Gas (NHVVG) as an input. In fact, several parameters, including NHVCZ, NHVdil, and each flare's specific maximum tip velocity (Vmax), are determined based on NHVVG, making this value one of the key components of reporting compliance and effective flare control. Direct measurements of vent gas composition can be used to calculate NHVVG and high precision gas analysis ensures accurate, actionable NHVVG data.  When regulated material is sent to the flare, NHVVG changes dramatically as hydrogen and hydrocarbon concentrations in the stream spike and recede. Regardless of the BTU content of the sample, the MAX300-RTG maintains constant, high precision on the NHV parameter due to the inherent repeatability of the gas analysis.
---
New Power Supply Available – 440 khz QPS
By Chuck DeCarlo, Business Development & Marketing Manager, Extrel
May 2021
Selecting a power supply depends on many factors.  Choosing a power supply best suited for your application can be a challenge.  There are many considerations: cost, physical size, mass range, sensitivity, abundance sensitivity, resolution, and transmission.  Most importantly the power supply must suit your application and requirements in all aspects.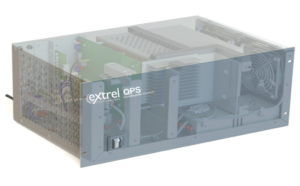 The Extrel Quadrupole Power Supply QPS is an ideal choice when you need a high precision, stable control, and power your Quadrupole Mass Filters, Octupoles and Hexapole Ion Guides and Collision Cells​.  It provides more stable, high resolution data across a wider sweeping range. Also, it enables measurements with accuracy without additional tools.
Maximize your performance and savings
Easy configuration
Faster project completion​
Gain confidence in your results
Flexible and adaptable to multiple types of setups​
Zero peak drift for stable, repeatable analysis and less calibration​
Ultra-high throughput for maximum ion transmission​
---
What You Should Know About Extrel
By Chuck DeCarlo, Business Development & Marketing Manager, Extrel
April 2021
Over 50 years ago, two professors changed the landscape of mass spectrometry by developing innovative RF and DC power supplies. Their discoveries became the foundation of Extrel – the world's leading manufacturer of state-of-the-art research and process mass spectrometers, residual gas analyzers, and quadrupole mass spectrometry components.
Since 1964, our instrumentation and solutions have been recognized for their exceptional performance, reliability, and flexibility, and are complemented by the most comprehensive application, technical and on-site support in the industry.  Used by today's leading researchers from individual components to fit-for-purpose all-in-one systems and have been applied in both research and industry – used by Nobel Laureates and thousands of others in a variety of applications worldwide.
As part of the Process Insights portfolio, we join leading technologies and solutions providers that deliver innovative and differentiated analysis and measurement solutions that add real value to our customers.
PROCESS INSIGHTS DELIVERS PREMIUM INSIGHTS INTO PROCESS
Process Insight' is committed to developing innovation that make our lives better and protects the environment.
The Process Insights Portfolio:
Process Insights is backed by Union Park Capital, a private equity investment firm based in Boston, MA and focused solely on lower middle-market industrial technology companies.